TalletusOtto is an automated teller machine that lets you deposit notes and coin if you have a bank card issued by Nordea, OP Group or Danske Bank in Finland.
TalletusOtto ATM also provides cash withdrawals with chip cards issued by any bank.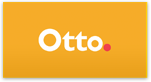 When in Finland, look for the sign above to get your euros. There are some 1500 "Otto." ATMs all over the country.
"Otto." ATMs serve you in English (or in Swedish or in Finnish, according to your selection).