In Finland, there are over 1.000 Otto-branded ATMs all over the country.
Otto ATMs provide you with cash if you have a card that carries one of the following logos.

With Finnish banks' cards Otto ATMs offer many additional services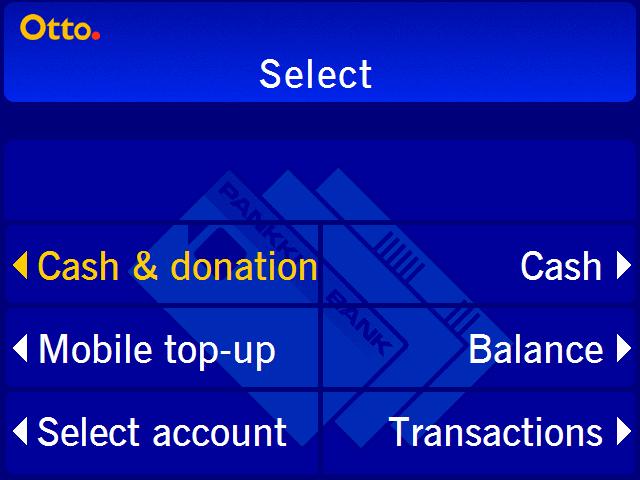 Balance selection displays the balance of your bank account on the screen.
Transactions selection displays the latest bank account events. You can choose if you want this mini-statement on screen or receipt.
Mobile top-up selection allows you to load and pay for air-time on a prepaid mobile subscription.
Cash & donation selection gives you an option to donate a few euros for a good purpose at the same time as you withdraw cash. You can confirm the donation or return to withdrawal without donation on the next screen.
The available services are bank and card-specific, as is the possible pricing of the services.
Withdrawal from debit or credit card, balance inquiry and latest transactions can be selected with cards issued by any Finnish bank.
Cash & donation transaction can be done with all domestic cards except credit cards.
Loading air-time on prepaid mobile subscriptions is available for cards of Nordea, OP, Danske Bank, Aktia, Säästöpankki and POP.